5 Step Guide to Complete Retirement Security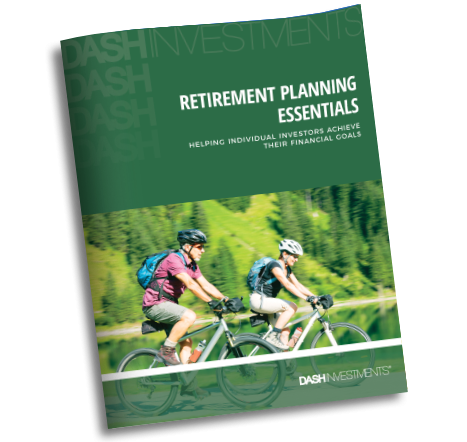 Building a personal financial plan is the first and most important step to reaching your investment goals. At Dash Investments, all clients are provided access to comprehensive financial planning services. Your dedicated Financial Counselor will start by analyzing your financial picture and objectives. With your goals in mind, a program is then set in place to help you reach them.
So that we can be sure you'll have enough money to cover your living expenses, we utilize conservative assumptions. This sets us apart from approaches which use aggressive assumptions and potentially mislead you to believe you are in a better position than is the reality. These financial planning assumptions are thoroughly researched and based on the historical data we've gained over many years of managing money.
Proper financial planning includes:
Establishing your financial objectives
Setting a time frame for your goals
Determining how much money is required to meet expenses
Investing assets in accordance with your goals and requirements
Retirement planning
Tax planning
Risk management
Whatever your goals may be, your financial plan will incorporate all aspects of your situation and provide a guide to assist you in reaching them. As a client of Dash Investments, you will always have a dedicated Financial Counselor, to assist you in managing and making adjustments to your plan as you go along.
Planning for Your Future and Beyond
Becoming the beneficiary of a family inheritance can present more challenges than most might initially consider. Determining how best to manage the funds is not always easy. Similarly, estate planning is an ongoing process that should be started as soon as one has a material asset base to manage. Complete estate planning includes the following:
Creation of a will
Establishment of trust accounts to limit estate taxes
Naming an executor
Establishment of a guardian for living dependents
Creating beneficiaries for IRAs, 401(k) plans, life insurance policies, and other plans
Setting up annual gifting to reduce the taxable estate
Setting up durable power of attorney
Lack of proper estate planning can lead to unnecessary financial burden upon family and loved ones. While these tasks may require the assistance of an estate law attorney, our advisors can assist with several important steps in this process.
With many factors to take into account, it is important that you construct a proper plan (which may include managing an inheritance or estate) before making any significant decisions.