5 Step Guide to Complete Retirement Security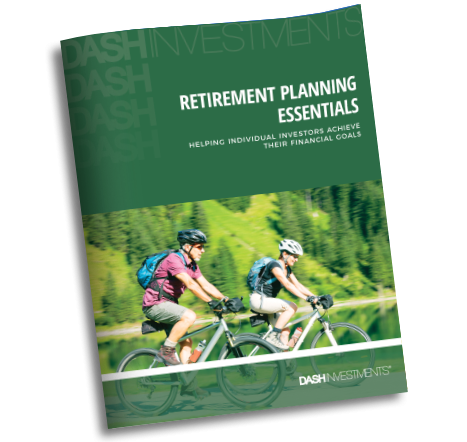 A RECORD OF PERFORMANCE
A seasoned team of investment executives, with over 50 years of combined experience, personally oversees all portfolio management. Guided by our Executive Investment Committee led by Jonathan Dash, Dash Investments has earned a reputation for trust and excellence within the industry.
EXPERT APPLICATION OF TRIED-AND-TRUE STRATEGIES
At Dash Investments you will gain access to tried-and-true strategies, masterfully applied by a team of investment advisors with decades of market insight. Our focused approach has enabled us to achieve excellent results for our clients while minimizing volatility.
COMPREHENSIVE RESEARCH AND ANALYSIS
Our expert, in-house research team applies a disciplined approach to seeking out attractive investments offering real value. Stocks, bonds, and other securities are subject to rigorous, methodical examination before they are deemed fit for your portfolio.
COMFORT AND SECURITY
All client accounts are held at well-known, third-party custodial institutions that specialize in asset custody and administration. You will be able to view or access your portfolio from anywhere, at any time.
CUSTOM PORTFOLIO DESIGN
At Dash Investments, our top priority is getting to know you and understanding your goals. In doing so, we can help you design a comprehensive financial plan that is uniquely yours to guide the creation and management of your investment portfolio.
DISCOVERY CONSULTATION
Your Financial Counselor meets with you to gather information about your personal financial picture, your goals, and needs.
IN-DEPTH ANALYSIS
Using information gathered in your initial consultation, our Portfolio Evaluation Team, working under the guidance of our expert Investment Committee, will create a written investment proposal with recommendations suited to your needs.
SECONDARY CONSULTATION
Your Financial Counselor will review these recommendations with you to ensure that you are comfortable with them and understand how they will help you reach your long-term goals.
ASSET TRANSFER AND PLAN EXECUTION
Your assets are transferred to well-known, third-party custodial institutions that specialize in asset custody and administration. Our Investment Committee will implement the strategy outlined for you and build your portfolio for long-term success.
KEEPING CURRENT WITH YOUR FINANCIAL PICTURE
Our Investment Committee will monitor your portfolio daily. Meanwhile, because your personal needs and circumstances may change, your Financial Counselor will regularly review your financial picture with you and provide updates to the Investment Committee. Based on these reviews and our updated views of capital markets, you will receive frequent, proactive consultation regarding your portfolio and overall financial plan.
INVESTMENT STRATEGY
POSITIONING YOUR PORTFOLIO FOR LONG-TERM SUCCESS
Selecting an effective guiding strategy for managing your portfolio is an important part of ensuring that you reach your goals while keeping your assets secure. Our primary philosophy for managing our clients' accounts is known as "value investing"—an approach made famous by legendary investor Warren Buffett. Our clients benefit from expert implementation of a time-tested investment approach, which has been successful for more than 80 years.
A PROVEN STRATEGY
"Value investing" is defined as purchasing stocks, bonds, or other investments in high-quality businesses when they are selling for less than they are intrinsically worth. Put another way, value investors seek to purchase stocks and bonds at bargain prices.
The basic principles of value investing are put into practice every day by consumers who seek to find the best prices for their favorite products.
For instance, imagine a scenario where your local grocery store is temporarily overstocked with your favorite cereal. As a result, they may put the product on sale for half price. Since you know from experience that this cereal brand is generally very popular and probably won't be in oversupply for long, you would likely buy several boxes because you know you are getting a great deal.
This same idea can be applied to stocks and bonds. Value investors will strive to determine the inherent value of companies and seek to purchase the stocks or bonds of those companies when they "go on sale." When they are not selling at a discount, the value investor will patiently wait for the price to fall to their targeted buying range.
INVESTMENT SELECTION
There are three primary characteristics we seek when analyzing a company: great business, great people, and great price.
GREAT BUSINESS
Simple and understandable
Consistent operating history
Favorable prospects for long-term demand of its product
Competitive advantages
Low debt
Great businesses are companies that have strong competitive advantages within their industries. These companies generally have operating histories of more than 10 years, demonstrate strength in all economic environments, and are well positioned for growth. They also have strong brands and operate in stable industries.
GREAT PEOPLE
A management team of capable operators
Track record of success
Long-term orientation
Intelligent capital allocators
Large ownership stake
We seek companies that have a team at the helm with a track record of success. Additionally, we look for managers who display integrity, intelligence, and a strong work ethic. In many cases these executives have a significant amount of their own net worth invested in the company. This alignment of interests helps to keep management focused on decisions that make sense for the company's entire shareholder base.
GREAT PRICE
Undervalued—as compared to assets and identifiable earnings
Selling at 60% or less of intrinsic value
By targeting undervalued stocks in inherently great companies, we aim to bring our clients real value and superior returns while minimizing risk. While great businesses usually demand a high purchase price, expert analysis and vigilant monitoring allows us to determine when the stock is "on sale" and to purchase when an attractive investment opportunity presents itself.
RESEARCH PROCESS
Did you know that there are over 9,500 publicly traded stocks in the United States and over 63,000 traded worldwide? There are also tens of thousands of fixed-income securities from which to choose. With so many investment options, how do you know which stocks or bonds to invest in? How do you know which are right for you?
COMPREHENSIVE RESEARCH
Conducting rigorous fundamental research and utilizing proprietary methodologies, our team of experts works full time to analyze and successfully identify attractive investment opportunities for our clients. Research often includes traveling to a company's headquarters to meet with management, interviewing the company's customers and suppliers, and conducting thorough research on its competitors.
By the time we are through, we can accurately determine the company's intrinsic value and growth potential. Many of our investments are in companies we have followed for decades. By becoming experts in a particular company before investing, we keep our clients well ahead of the pack.